The spring link up theme today is Spring Cleaning Tips……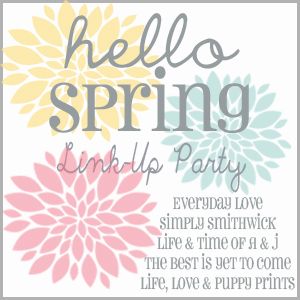 WARNING: Cleaning the house is probably one of my least favourite things so this won't be a very exciting post.
It's a task neither my husband nor I enjoy and to keep the peace in the house we have a cleaner that comes in every two weeks. I would give up spending money a lot of places before I would let her go! So that being said I don't have any tips particularly… but there are a few things that we will do this spring:
1. Clean out the closets and donate any clothes we no longer wear. I actually enjoy doing this since I usually discover something I forgot I had! And it also means I get to see all of the clothes I get to start wearing when the weather is nicer :)
2. Clean out the office. Over this winter this room of the house got VERY cluttered and ended up being a dumping ground for everything. We started this last weekend and I can't believe the amount of "stuff" I took out of there.
3. Clean the window screens. These I put these in the bathtub, spray with cleaner and then just rinse off.
Do you have anything special you do for spring cleaning?