Happy Monday!
I thought I would participate in Spring Link up I saw over on Alison's page. Hopefully it can get me back into the blogging groove.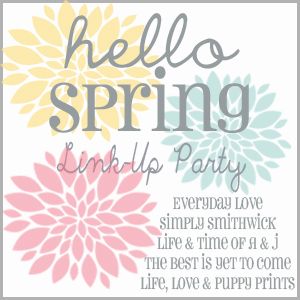 Today's theme is Spring Bucket List! Although today does NOT feel like spring is anywhere close I do have a few things I am waiting patiently to be able to do:
Be able to run outside again regularly without having to buddle up or dodge icy patches! I love running outside but am tired of it being cold. Long runs are not meant to be done on a treadmill (no matter how many episodes of The Walking Dead I have to watch).

Set up our outdoor furniture again and be able to use it.

Homemade iced coffee's on the deck

Plant my garden. I plan on starting a few things inside this year and then planting them.

Rabbit's eating my newly planted flowers last year

Go to the Millarville Farmer's Market (it opens just before the first day of summer so I thought I could sneak it in the list)
BBQ in the backyard without having to shovel the deck first.
I feel like I should add spring cleaning around the house to my list but that's more of a "have to do" vs. "want to do" ;)
Most importantly – being able to wear all my spring clothes/shoes! I am so done with my winter clothes.
What's on your list?