Happy Friday!
I was going to kick off my back to blogging with my usual Friday Favourites post but almost all my moments from this week that made me smile involved a friend and a coffee date! Somehow I didn't think that 4 pictures of coffees would really be very interesting to anyone
J
So instead I am linking up with with
Ashley
for Friday's letters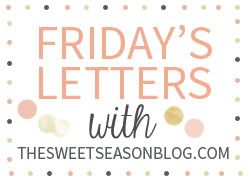 Dear Work: I like you but please slow down soon. I have hardly had time to catch my breath since November and other areas of my life (blogging, sleep, socializing, shopping etc) are getting neglected because of you.
Dear
Mexico
trip: I can hardly wait for you to come. Only 2 more weeks and I will be enjoying your sun, sand and tequila. You will bring me some much needed relaxation.
Dear yoga: You have been a savior this last month. With everything that has been going on you have been a place to come too where I can relax and unwind. I am looking forward to your 3 hour arm balancing workshop on Sunday.

Dear weather: You have been amazing lately which allows me to run outside which is so much better than the treadmill in the basement.
Dear Songza: I love you. Listening to 90's hit's at work always makes me smile.